Transportable Diesel Generator NISSHA NES-series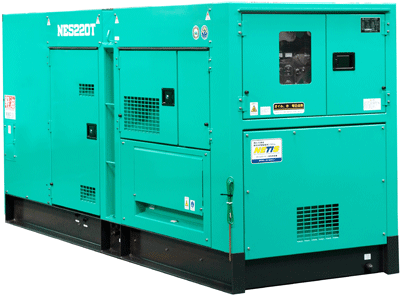 In 1959, NIPPON SHARYO launched the 1st transportable diesel generator in Japan and since then, we have been carrying on developing unique and innovating generator with cutting edge technology harmonizing with environment.
NES series cover from 25 to 800kVA(60Hz)
High quality generator output is endorsed by
1) using FET type AVR(Automatic Voltage Regulator) which delivers high quality electricity with voltage regulation within +/- 0.5%.
2) high grade insulation of alternator which is imperative for heavy duty use such as Rental use.
Emission Control and Sound level are conforming to Japanese Ministerial regulation. Various option will cover user's different demand from lower fuel consumption up to parallel running with operating units number control..

NIPPON SHARYO's contribution by POWER SUPPLY ! March 2011
NES-SERIES Catalog
obverse cover
model
Volume of data
new
2016NES_e.pdf

NES25TK,NES25TKL,NES45TY3,NES45TYL3,
NES60TK2,NES60TKL2,NES100TI2,NES125TI2,
NES150TI,NES220TI,NES400TI

NES100EI,NES125EH,NES150EH,NES220EM,
NES400EM,NES500EM

NES610SM,NES800SM

3.0MB
old
2014NES_e.pdf

NES25TK,NES25TKL,NES45TY2,NES45TYL,
NES60TK,NES60TKL,NES100TI,NES125TI,
NES150TI,NES220TI,NES400TI

NES100EI,NES125EH,NES150EH,NES220EM,
NES400EM,NES500EM

NES610SM,NES800SM

4.4MB
old
2013NES_e.pdf

NES25TI,NES25TIL,NES45TY2,NES45TYL,
NES60TI,NES60TIL,NES100TI,NES125TI,
NES150TI,NES220TI,NES400TI

NES610SM,NES800SM

1.4MB
old
2007NES_e.pdf

NES13EK,NES25EI3,NES45EN,NES60EH,
NES100EI,NES125EH,NES150EH,NES220EM

NES300EH,NES400EM,NES500EM,

NES610SM,NES800SM

NES25EAI2,NES45AP,NES60AP

3.8MB
old
2004NES_e.pdf

NES13EI2,NES25EI2,NES45EH,NES60EH,
NES90EI,NES150EH,NES220EM

NES300EH,NES400EM,NES500EM,

NES610SM,NES800SM

NES25EAI,NES45EAN,NES60EAI

3.2MB
old
2000NES_e.pdf

NES13SI,NES15SI,NES25SI-T,
NES35SHE,NES45SHE,NES60SHE,NES75SHE,
NES90SHE,NES125SHE,NES150SHE,
NES220SHE,NES260SHE,NES300SME

NES350SM-2,NES400SM-2,NES500SM-3,
NES600SM-3,NES800SM

2.5MB
Transportable Diesel Generator

NISSHA NES-series

Specifications

Option

Contact Us
1960 First generator developed
Development of DG model generator (Japan's first portable diesel generator for construction,September 1960)
The history and progress of diesel genarator sets cannot be told without Nippon Sharyo,ltd.
We have defined the times by launching various power production facilities with new innovative concepts.
We continue to contribute to the environment and ergonomics through improving our products
Thanks to customers support, we have been successful for more than half a century in many locations of the world. Both voltages, 200 V and 400 V, are available.
High insulation+ alternator
The alternator winding is coated with varnish using dripping impregnation and vacuum impregnation to provide high insulation performance.
Weather resistant coating
Electrodeposition and weather- resistant baking finish are used on all models, providing high resistance to corrosion.
High-quality power supply
The FET-type AVR (Automatic Voltage Regulator) and high-performance damper winding provide high-quality power with a voltage regulation of ±0.5%. In addition to working well with general linear loads, the generator also works well with nonlinear loads such as inverters.
Tough and durable
Tougeness and durability. We continue to create products that satisfy our customers.
Generators developed by NISSHA
All NISSHA generators, except for engine components, are developed and manufactured according to our designs. In particular, we have absolute confidence in our alternators due to our many years of experience. We will continue to respond to our customer's requests so that they can supply power to a wide variety of loads.
Oil guard
Oil guards that have passed leakage are provided as standard equipment in all models compliant on NES25 to NES400TI . These prevent fuel and oil leakage and protect the environment. Although all possible measures have been taken against rainwater, if rainwater nevertheless penetrates, it is removed by a dedicated drain cock.
Large tank
NES25TKL, NES45TYL3, and NES60TKL2 models are equipped with a large capacity fuel tank.
This makes it possible to support more than 48 hours of long term continuous operation on one tank without using an external tank (with a 50% load at 50Hz for each model).
Also, because an external tank is not used, it conforms to "electrical generator facilities that are not continuously monitored" of the electrical installation technical standards.
Daily check on one side
The fuel filler port, oil filler/inspection port, reserve tank and output terminal board are placed on one side, allowing easy access for daily checking and wiring (excluding the NES25).
Easy oil change
Oil can be changed quickly and easily without special tools.
Maintenance time is saved and your hands keep clean ( NES25 to NES60).
Easy radiator flushing
The front cover of the radiator is either a full-open type (NES25 to NES60) or hinged type (NES100 to NES800) to enable easy flushing of the radiator.
New IC monitor
New IC monitor checks the system for malfunction at all times before and during operation.
Output reduction due to ambient temperture
Output decreases by 11% when the ambient temperature increases by 5°C, with JISB8002 standard conditions (atmospheric pressure of 100kPa, ambient temperature of 25°C, and humidity of 30%) as a baseline.
| | | |
| --- | --- | --- |
| Example | | |
| Ambient Temperature | Output | %Decrease |
| 25°C | 100% | - |
| 30°C | 89% | 11% |
| 35°C | 78% | 22% |
| 40°C | 67% | 33% |
Cable selection guide
Voltage drop of the cable should be within 10V. Amperes per square millimeter should be approximately 3 amps.