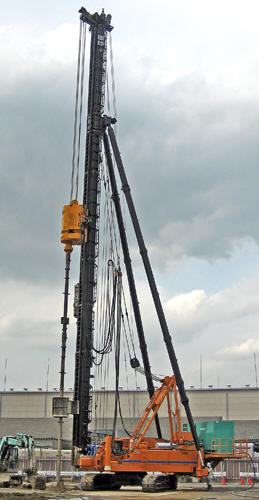 Law for the regulation of Emission Gas of Special Vehicle(hereinafter called Off-road Law) was effective from April, 2006 under the situation of enhancement of consciousness for the environment against Global Heating and Air Pollution in the world.
Special vehicle mentioned above means the vehicle working in the construction job site or on road. The target range by Off-road law is above 19kW less than 560kW.
Consequently, most of construction machinery driven by engine is now with in the target. From view point of number of Special Vehicle, the portion of Special Vehicle represents only 2%(ie, approx. 1.3Million units), but represents 12% for particulate matter and Approx. 25% for nitrogen oxide within total exhaust gas.: Such facts increased the necessity of this law and Off-road law was constituted.
As for the approach of exhaust gas for construction machines, the institution to designate the machines countermeasured against Exhaust Gas started in 1991 which was renewed in 1996 by setting the 2nd criterion value along with which our Division has been launching the products adequate to such regulations. aggressively.
Since the conventional designation system was self-imposed regulation by Ministry of Land, Infrastructure, Transport and Tourism(herein after called MLITT), the regulation was limited only to the jobs under direct control of MLITT.
There did not exist any penalty clauses. Comparing with this, Off-road law effective from April 2006, is quite new law under control by Ministry of Environment(MOE), MLITT and Ministry of Economy, Trade and Industry(METI). Consequently, every job sites inside Japan is under control of this law with penalty clauses.
The application of law start timing is different according to the Engine output., but this law started from Oct. 2006 and is introduced gradually. But, as for the machines already produced prior to such timing, this law will not be applicable to such machines and the user can use them as before.

Applicable Patches for Off-road Law 
As far as our NIPPON SHARYO's products are concerned, we launched Pile Driver Model DH658, minor changed with adequate engine to this law in September, 2008. We confirmed 0% density of Black smoke at our factory test, which was accepted by the authority. We managed to delivery this 1st machine adapting Off-road law to our customer. We are continuing to develop other models to adapt Off-road law. We wish we could become environment friendly Company contributing by supplying adequate products responding to the demand of the times..