SSI SHREDDERS & BALE BREAKER
Rotary shear shredders & Bale Breaker
SSI ROTARY SHEAR SHREDDERS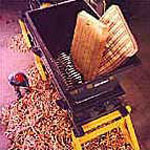 Excellence in Size reduction technology
Many materials Many environments

- Electric & hydraulic drives
- 5-1000 HP (4-750 kW)
- High throughput
- Low noise and dust
- Easy to maintain
Ram feature

Patented Automatic Ram operation senses cutter loading and automatically retracts and extends Ram for maximum processing efficiency. Useful for hard-to-feed bulky items like plastic drums, light plastics, tubes, pallets and wood waste.

ACLS™ Advanced Cutter Locking System

Patented ACLS™ eliminates daily cutter stack maintenance and protects shafts.

SSP™ torque coupling Severe Shock Protection

Patented SSP™ delivers the best shock load protection for electric shredders.
Electric Drive
Series
HP
kW
Cutting Chamber(mm)

Cutting Blade

Machine L~W~H(mm)
Machine Weight(kg)
Thickness(mm)
Qty.
Dia.(mm)
M55E(22E)
30
23
580x1025
25
41
290
3075x1125x2700
2,000
M70E(30E)
60
45
700x1315
38
36
365
3935x1520x3000
5,000
M85E(35E)
100
75
890x1610
50
33
460
4475x1600x3075
8,400
M100E(42E)
200
150
1040x1610
50
33
530
5410x1659x3159
14,400


Hydraulic Drive
Series
HP
kW
Cutting Chamber(mm)

Cutting Blade

Machine L~W~H(mm)
Machine Weight(kg)
Thickness(mm)
Qty.
Dia.(mm)
M55H(22H)
30
23
580x1025
25
41
290
2300x1125x2700
4,200
M70H(30H)
60
45
635x1325
38
36
365
3935x1520x3000
6,000
M85H(35H)
100
75
890x1610
50
33
460
3350x1600x3075
10,800
M100H(50H)
150
112
1040x1610
50
33
530
4172x1659x3159
15,100
M130H(50H)
400
300
1320x1905
50
39
690
5100x1925x4175
15,800
M160HD(60HD)
400
300
1625x2555
50
51
580
6223x2032x4293
36,752


Bale Breaker
Series
HP
kW
Cutting Chamber(mm)
Cutting Blade
Machine L~W~H(mm)
Machine Weight(kg)
Throughput
Thickness(mm)
Dia.(mm)
100E
200
150
1040~1610
50
530
5410~1659~3159
14,400
10-20
130ED
400
150x2'δ
1320~1905
50
690
5100~1925~4175
15,800
20-40
160ED
400
150x2'δ
1625~2555
50
850
6223~2032~4293
36,752
20-40
( 'dElectric Drive , 'gHydraulic Drive , HD=Dual Hydraulic Drive)