Nippon Sharyo's tank trucks and tank trailers are carefully designed under a flawless quality control system to insure the safe and economical transportation of high pressure gas (such as LPG and LNG), chemical and powdered products.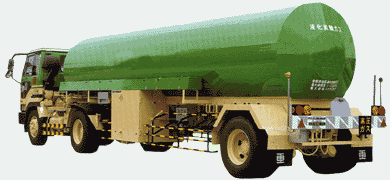 Liquefied Carbon Dioxide Tank Truck
This ultra low temperature vessel is of jacketed structure with foamed urethane insulation and equipped with discharging pump system..
LPG Tank Truck
This tank truck is used to carry liquefied petroleum gases. This type of high pressure vessels are designed to fit on the standard chassis of truck manufacturers..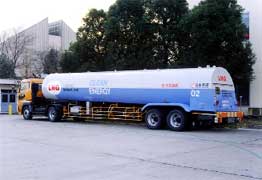 LNG Tank Trailer
This ultra low temperature thermos type vessel is of vacuum-perlite Dewar's jacket insulation and equipped with pressurized discharging system by atmospheric warming vaporizer.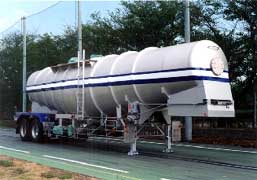 Chemical Tank Trailer
The light weight monocoque tank trailer is specialized to carry the material of polyester fiber, equipped with air slide discharging system with dust-explosion-proof sealing by nitrogen gas