Topics of Rolling Stock
April 30, 2013
Nippon Sharyo USA, Inc.
Nippon Sharyo Manufacturing, LLC
Expansion of Rochelle Production Facility
Nippon Sharyo Ltd. (Nagoya, Japan, President Akira Nakagawa) and Nippon Sharyo U.S.A., Inc. (Illinois, U.S.A., President Akira Koyasu) announced the expansion of its U.S. production facility in Rochelle, IL which started operation in June 2012. The expansion involves construction of a new building for the metal fabrication and machining production.
In the United States, when the funding for new rolling stock procurement is provided by the Federal Transit Administration (FTA), Buy America Requirements under 49 CFR 661 will be applied which requires that 60% of all components for the rolling stock to be of U.S. origin, and the final assembly of the rolling stock take place within the U.S.
However, the contract for Bi-Level Passenger Railcars (130 railcars with an option to purchase an additional 300 railcars) awarded in November 2012 by California Department of Transportation (Caltrans) and Illinois Department of Transportation (IDOT) is funded by the Federal Railroad Administration (FRA), which requires g100% Buy Americah under 49 U.S.C. ˜24405(a). In order to meet this gFRA Buy Americah requirement, the expansion of Nippon Sharyo USAfs Rochelle facility is planned.
A groundbreaking ceremony for the expansion to include a third shop was held today in Rochelle. Guest speakers included U.S. Secretary of Transportation Ray LaHood, IL Governor Pat Quinn, and Nippon Sharyo Chairman Katsuyuki Ikushima.
gNippon Sharyo came to Illinois because of our commitment to high-speed rail, strong transportation network and central location, all of which make our state the ideal choice for growing global companies,h Governor Quinn said.
In the new facility, major parts and components for the car body will be manufactured using U.S. made raw material. Continuous lean production process from raw material to the complete car body under the strict production and quality control is expected to lower the overall cost.
gTodayfs announcement means more manufacturing jobs for Illinois, and is proof that our Buy America program, requiring every rail component to be built in the U.S. by American workers, is making a difference,h U.S. Transportation Secretary Ray LaHood said.
Nippon Sharyo will continuously enhance its presence and competitiveness in the North American market as the top American integrated passenger railcar manufacturer that delivers quality products to the customersf satisfaction.
Summary of the new facility:
1. Location: Rochelle, Illinois (west of the existing facility)
2. Areas: 22.16 acres or 965,193 sf (existing areas 34.90 acres or 1,520,344 sf)
Building: 327,360 sf (existing facility 480,845 sf)
3. Operation Start: Spring 2014
4. Number of the expected new hires: approximately 80
5. Total Investment: US$ 54 million
Attachments: Metal fabrication and machining production facility site photo
New facility perspectives
High-Speed Bi-Level Passenger Railcars for California Department of Transportation and Illinois Department of Transportation (Caltrans/IDOT)
Groundbreaking Ceremony Pictures (with captions)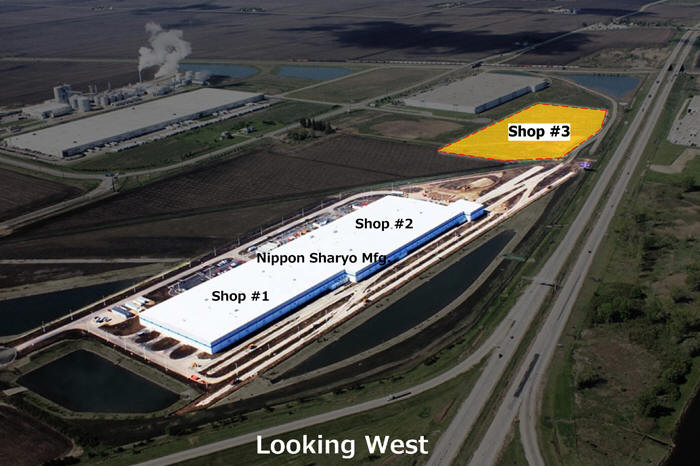 yMetal fabrication and machining production facility sitez
Shop #3: planned site in yellow Shop #1 and Shop #2: existing assembling facility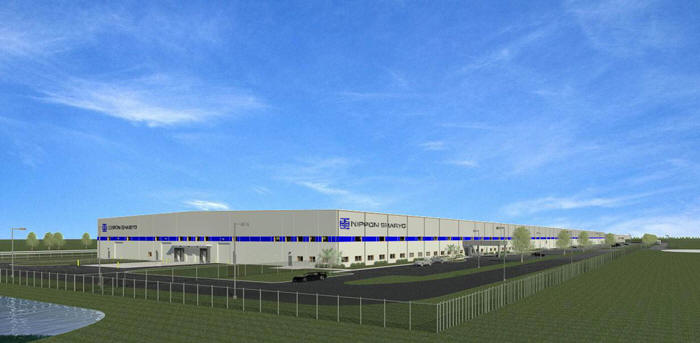 yNew facility perspectivez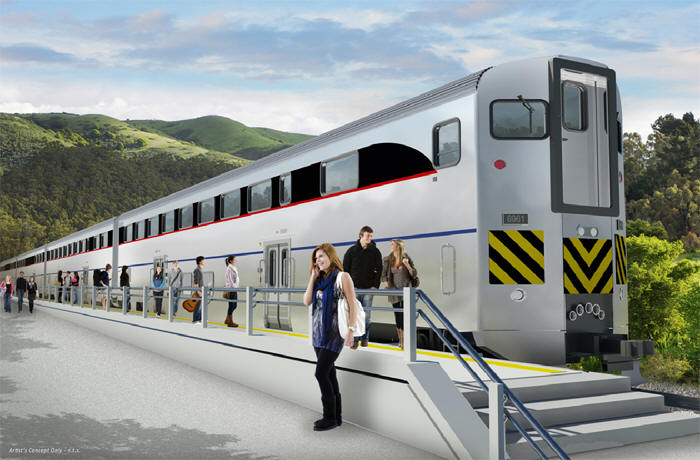 yHigh-Speed Bi-Level Passenger Railcars concept illustrationz

yGovernor Pat Quinn (speaking); Secretary of Transportation Ray LaHood; Consul General of Japan to Chicago Masaharu Yoshida; Mayor of Rochelle Chet Olson; Nippon Sharyo Chairman Katsuyuki Ikushimaz

ySecretary of Transportation Ray LaHood speaking at Nippon Sharyo Shop 3 Expansion Groundbreakingz

ySecretary LaHood filling in an eye on the Daruma doll.z

yNippon Sharyo Chairman, Katsuyuki Ikushima, filling in the eye on the Daruma doll.z

yFrom left: IL DCEO Adam Pollet, IDOT Joseph Schacter, FRA Administrator Joseph Szabo, IL Governor Pat Quinn, Nippon Sharyo Chairman Katsuyuki Ikushima, Transportation Secretary Ray LaHood, Consul General of Japan to Chicago Masaharu Yoshida, Nippon Sharyo U.S.A. President Akira Koyasu, Rochelle Mayor Chet Olson.z