@Light Rail Vehicle for LACMTA
LACMTA: Los Angeles County Metropolitan Transportation Authority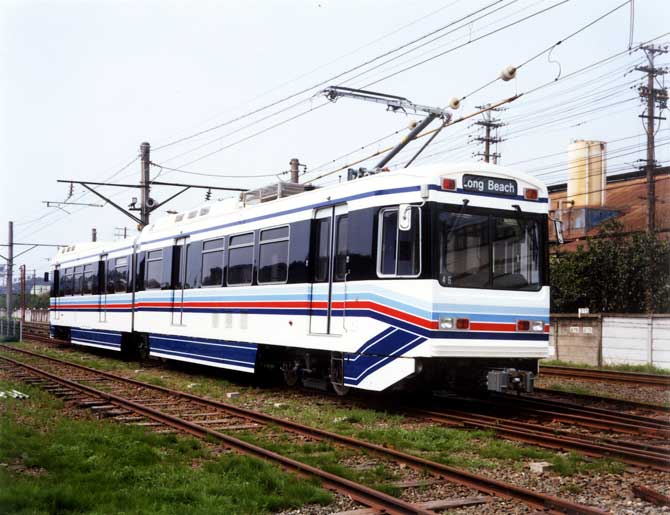 This light rail vehicle for LACMTA runs between downtown Los Angeles and Long Beach, 21.5 mile railroad known as Metro Blue Line. Despite its petit and cute looks, it features highly reliable crashworthiness and antifire design for riderfs safety considering underground run around downtown LA.
Car Type

Articulated light rail vehicle

Model

Track Gauge

4f 81/2h (1435mm)

Electric Power Supply

750VDC from Overhead Catenary

Max. Passenger Capacity(Seating Capacity)

180 (76)

Tare Weight

94,160lbs (42.8 ton)

Principal Dimensions

Length

87f 0h(26518mm)

Width

8f 0h(2661mm)

Height

11f 6h(3505mm)

Truck

Inside-bearing type with resilient wheels
(2 motored trucks + 1 non-powered center truck)
Wheelbase: 6f 2 51/64h (1900mm)
Wheel Dia.: 2f 4h(711.2mm)

Coupler

Automatic tight lock coupler (for both mechanical and electrical connections) with cartridge type impact energy absorption device

Maximum Speed

55mph (88 km/h)

Control System

Chopper control

Brake system

Pulse width controlled electro-pneumatic disc brake
Rail brake for emergency use is provided.

Year delivered

1989

-1990, 1994

View NIPPONSYARYO'S Train in America
Copyright (c) NIPPON SHARYO,LTD.