@Passenger Car for MDOT
MDOT: Maryland Department of Transportation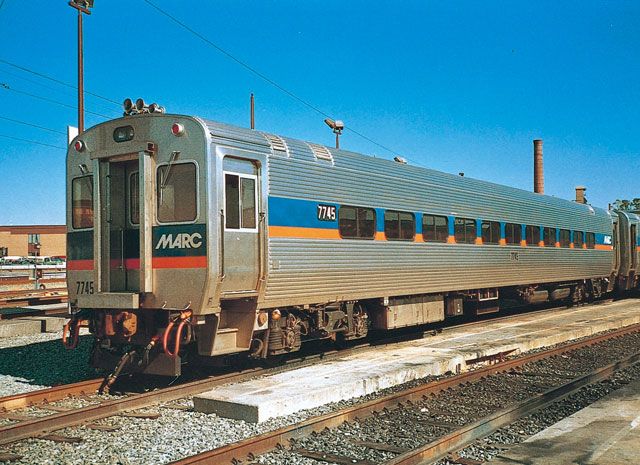 The passenger cars were ordered by MDOT to be use commuter transport between Baltimore and Brunswick, Maryland. The train offers high quality and performance even to allow coupling run with AMFLEET II high speed passenger car running on AMTRAK North East Corridor to go Philadelphia or New York. This car operated in the U.S. capital was manufactured and assembled by many American workers as it adopts many parts made in and took final assembly in the U.S. thanks to Buy America Act.
Car Type

Cab Car

Trailer Car

Model

Type 7745

Type 7700

Track Gauge

4f 8 1/2h (1435mm)

Electric Power Supply

3-phase 480V 60Hz, supplied from locomotive

Max. Passenger Capacity(Seating Capacity)

(109)

(121)

Tare Weight

99,360lbs(45,080kg)

93,380lbs(42,370kg)

Principal Dimensions

Length

85f 0h(25908mm)

Width

10f 6h(3200mm)

Height

13f 1h(3989mm)

Truck

Coupler

AAR Type H

Maximum Speed

105mph (170km/h)
120mph (195km) with Amfleet coupled

Driverfs Cab

Available for push-pull operation

n/a

Brake system

WABCO 26C automatic pneumatic brake

Year delivered

1985-1993

View NIPPONSYARYO'S Train in America
Copyright (c) NIPPON SHARYO,LTD.