Message from the President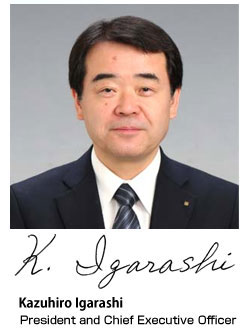 For the last 110 years Nippon Sharyo has been the leader in the field, ever since it was established as a railway rolling stock manufacturer in 1896 by those who shared the same interest in business circles in central Japan.
Never content with maintaining the status quo, however, the company expanded its business into the areas of construction equipment, steel structures, transportation equipment, and agricultural plants in the 1960's.
Even in recent years, we've never lost the appetite for the new opportunities that meet the ever-changing market needs, such as industrial chemical plants and environmental engineering.
In the era of globalization that we live in, corporations of every kind are forced to reevaluate their "wisdom", "skills", and "ability".
Nippon Sharyo, too, is in the midst of evolution to become a flexible business entity that can adapt to the fast changing society while maximizing our accumulated experiences as the leading infrastructure creator in the 21st century.
Nippon Sharyo strives to create product lines that meet the needs of the ecological new century, and we continue to work hard to preserve the trust of our existing clients as well as to gain wider acceptance in the society.