Message from the President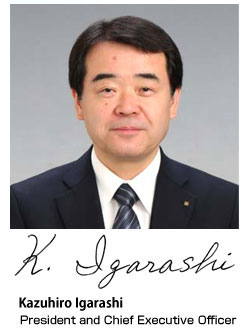 More than a century after its founding in 1896, Nippon Sharyo contributes to the development of the country's railroads as the top manufacturer or railway cars. We have also expanded into related business areas such as transport equipment, bridges, construction equipment, and equipment for vehicle inspection and maintenance, working to evolve as an "infrastructure creation company."
Moving forward, we at Nippon Sharyo are striving to increase company value by specializing and concentrating on market sectors and business areas to work on, valuing our position of working seriously on creating things, which we have held since the company was founded, and upholding our group principle of "to aim to enrich the human environment. " At the same time, as a subsidiary of Central Japan Railway Company, we work hard to contribute to safe and comfortable rail transport from the position of the manufacturer. We provide human- and environmental-friendly products and services useful for the productive use of social capital. Please continue to provide us with your unwavering support as we forge ahead to earn the broad trust of society.
For the last 120 years Nippon Sharyo has been the leader in the field, ever since it was established as a railway rolling stock manufacturer in 1896 by those who shared the same interest in business circles in central Japan.
Never content with maintaining the status quo, however, the company expanded its business into the areas of construction equipment, steel structures, transportation equipment, and agricultural plants in the 1960's.
Even in recent years, we've never lost the appetite for the new opportunities that meet the ever-changing market needs, such as industrial chemical plants and environmental engineering.
In the era of globalization that we live in, corporations of every kind are forced to reevaluate their "wisdom", "skills", and "ability".
Nippon Sharyo, too, is in the midst of evolution to become a flexible business entity that can adapt to the fast changing society while maximizing our accumulated experiences as the leading infrastructure creator in the 21st century.
Nippon Sharyo strives to create product lines that meet the needs of the ecological new century, and we continue to work hard to preserve the trust of our existing clients as well as to gain wider acceptance in the society.