Now RT-300III arrived after RT-260H in San Francisco
In addition to our Casing Rotator model RT260H handed over in October 2011 to the Job site of Transbay Transit Center, San Francisco Terminal Station of California High Speed Railway, now RT-300III was handed over in March 2012.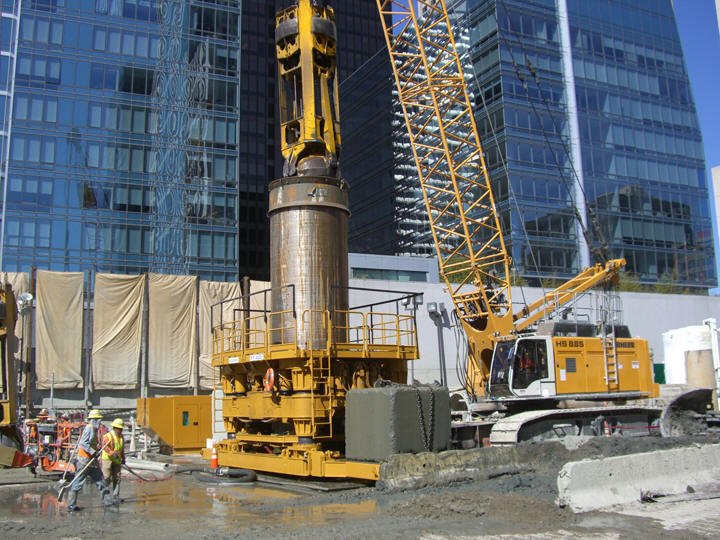 RT-300III is the superior model of RT-260H capable until max. 3m borehole diameter with Sub Chuck system of wedge type like Main Chuck, while band type is applied for lower models. Power Unit of model RTP-5 with Tier 3 engine was newly developed. This combination of RT-300III with RTP-5 was introduced abroad for the first time.
The Job site is located in Downtown surrounded by Babel closed to Financial District. It will be totally out of imagination for the walkers around where the secant pile wall with the depth over 70m is now constructed, except seeing the earth removal by the hammer grab on the big crane.
This secant pile wall is not a regular single wrapping line, but multiple wrapping lines covering in every direction, which is unprecedented method in U.S.A. demanding extremely high technology and skillfulness. This is why this Job attracted so much attention of the foundation biz people. The highest responsible person of this High Speed Railway paid a visit to see our machines and the operating company receives consecutive contacts and questions from the interested companies.
When our RT-260H was introduced for the first time, the Client TJPA, General Contractor and other concerned parties were surprised at its low noise, low vibration, extremely high accuracy and high efficiency. Now, more than 6 months passed without any problems under 24 hours operation except one day off of Sunday. This result gains a full confidence and trust on our Casing Rotator.
Now RT-300III arrived and the operation pace was speeded up dramatically. The skillful operators manipulate our Casing Rotators very precisely and dynamically exchanging dialogue with soil. Our machines speed up their pace to such an extent that the other process delays.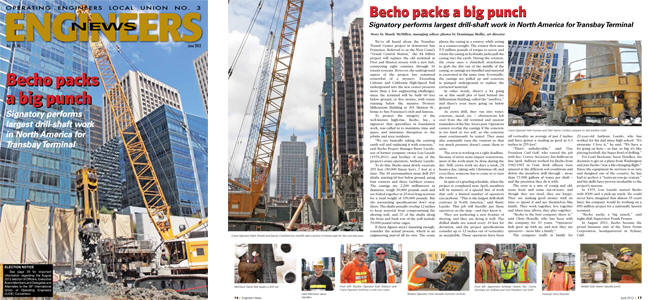 Machines have their nick name there. RT-260H is called as gNINJAh and RT-300III is gSHOGUNh, very Japanese naming. The presence of RT-300III is so gigantic because of its high performance and really this acts up to its reputation called as gSHOGUNh (like KING).
At the same time of delivery of SHOGUN, there was a show called ADSC Expo (Foundation Equipment Show) in San Antonio, Texas. Though there was no NIPPON SHARYOfs booth, many people knew our Casing Rotator very well. Transbay Job site becomes very famous now and like a show room of our products.
Till now, Oscillator has been a mainstream product. But now it is changing to Casing Rotator. Thanks to American skillful people with great experience, new page of Foundation is turned.
We wish the safety be assured during this job until April, 2013.
PS: You can observe the Job situation all the time through web camera.

http://transbaycenter.org/ ¨@Pull down menu gCONSTRUCTION UPDATESh ¨@gConstruction Camerash ¨@hBEALE STREET CAMERAh

RT260H working in Downtown San Francisco